Spring is just around the corner, which means that now is the perfect time to start making spring vacation plans. With its beautiful scenery and endless recreational activities, Aspen is the ideal place to embark on your next adventure. This mountain town is synonymous with ski culture, but there's plenty more to look forward to if skiing isn't your forte. With a vibrant community, Aspen provides residents and visitors with everything from museums to concerts to outdoor exploration. Here are five spring activities in Aspen you won't want to miss.
Snow Beach by Gray Malin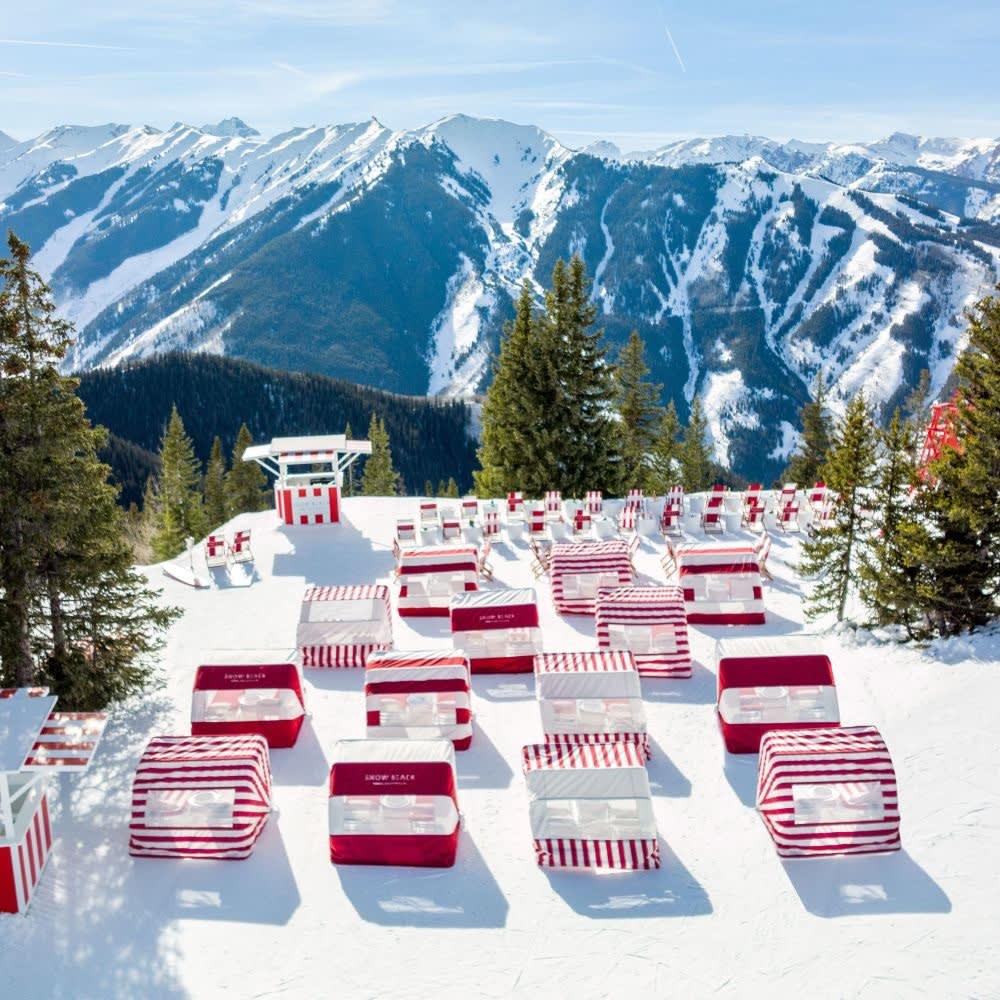 Photo courtesy of Graymalin.com
​While going to the beach might not be in the cards for you this spring, don't worry—Gray Malin will bring the beach to you in Aspen. At the top of Aspen Mountain,
Snow Beach
is an immersive beach club experience where the premiere apres-ski scene meets the seaside. Snow Beach has an inspiring 360-degree sun-filled view, where guests can kick back and enjoy an incredible rest-and-relaxation experience. Guests can sit in striped cabanas, listen to a live DJ, play games, and experience five-star food and beverage service. Expect only the finest cuisine at Snow beach, including caviar selections, sliced Jamón Ibérico, individual black truffle pizzas, champagne, and much more.
The event opened on President's Day weekend and will run until March 27, so don't wait to
reserve your tickets
. Reservation options include single lounge chairs with a half-bottle of champagne or rosé, a cabana for two with a bottle of champagne or rosé, or a cabana for six with three bottles of champagne or rosé.
Andy Warhol Exhibit at Aspen Art Museum
Aspen has an arts and culture scene that rivals many major cities. This mountainside town has emerged as
one of the county's great contemporary art destinations
. It's home to a varied mix of museums, galleries, exhibitions, and summer festivals, which will leave you feeling inspired and rejuvenated. No visit to Aspen is complete without stopping at the
Aspen Art Museum
, located on Hyman Avenue. Founded in 1979, the museum is a contemporary art museum that appeals to art lovers from across the country. Exhibitions include drawings, paintings, sculptures, multimedia installations, and electronic media.
Art enthusiasts can look forward to visiting the
Andy Warhol exhibit
, which focuses on the biographical underpinnings of Warhol's practice. As one of the most prolific and popular artists of his time, Warhol was a leader in the pop art movement of the 1960s. He ventured into a wide variety of art forms, including performance art, filmmaking, video installations, and writing. His inventive work masterfully blended fine art and mainstream aesthetics. At the Aspen Art Museum, the exhibition is structured to examine the artist's life parallel to his work. Visitors will have the opportunity to see lesser-known bodies of work, combined with legendary Warhol pieces. Be sure to stop by and see this exhibition, which runs through March.
Sunset & night skiing
This small mountain community is famous for its world-class skiing and, once you've been here, it's easy to see why. Aspen is home to four ski areas surrounding the town, including Aspen Mountain, Aspen Highlands, Snowmass, and Buttermilk. If you consider yourself a thrill-seeker, we've got a perfect adventure! Take advantage of late-in-the-day skiing and riding, where you can spend the golden hour gliding down mountains.


When the sun goes down at Aspen Mountain, the slopes light up. Guests can look forward to
Sunset Skiing on April 1
. Enjoy the excitement that turns on when the mountain lights up. In addition to the thrill, there are plenty of advantages when night skiing. Lift tickets for night skiing are less expensive than day skiing, the slopes are less crowded, and lift lines are long gone. However, when it comes to Sunset Skiing at Aspen Mountain, keep in mind that space is limited, so you should
purchase your lift tickets
in advance.
Aspen Mountain has been a favorite ski and snowboarding destination since its first opening in 1947. At 675 acres, this mountain offers 76 trails packed into a narrow area with a vertical drop of 3,267 feet. Famous for its black-diamond terrain, Aspen Mountain does not have beginner runs. Instead, the mountain is geared toward those well-versed in skiing. Although snowboarding is now permitted, Aspen Mountain still retains a rich culture in the tradition and soul of skiing. The mountain offers a variety of glades, bumps, and steeps. In fact, this mountain has even hosted the World Cup races, a highly-anticipated event each spring. While the mountain has retained much of its charm from the early days, visitors can appreciate the new gondola and great food at the Sundeck, which offers sweeping views of the Elk Mountains.


New to snowboarding or skiing and don't know where to start? Don't let that stop you! The Ski & Snowboard Schools of Aspen Snowmass offer lessons to build confidence, learn the terrain, and level up.
Concerts at Belly Up Aspen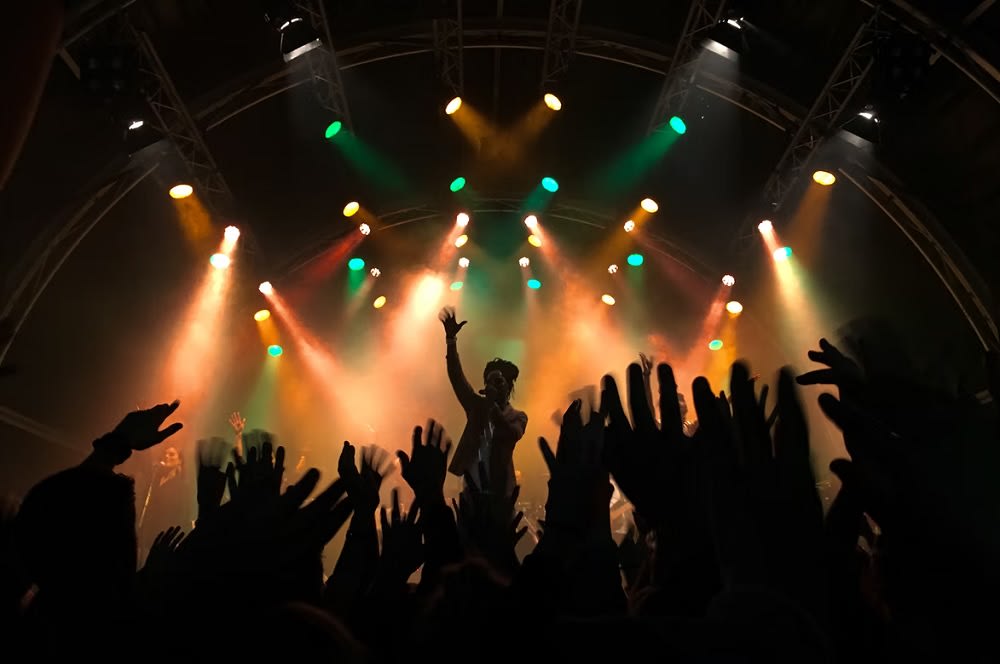 For an unforgettable evening of live music, check out
Belly Up Aspen
. This eclectic venue first opened its doors in 2005, quickly becoming one of the best live music venues in the Aspen region. The venue is owned and operated by resident Michael Goldberg, who runs the business with his two sons. Despite being a relatively new venue, Belly Up has quickly earned a name in the music world. It's become so renowned, in fact, that
Rolling Stone Magazine
included it on its '
Best Clubs in America
' list.
The venue has over 300 shows every year, showcasing diverse musical genres and talents. From up-and-coming artists to household names, Belly Up has it all. Since its opening, the venue has hosted several renowned artists, including The Killers, Lil Wayne, Kygo, Twenty-One Pilots, and more.


One thing that makes this venue so unique is its small size. With a capacity of 450, Belly Up provides fans with a more intimate experience than a larger venue. Concert-goers can look forward to an up-close-and-personal musical experience with their favorite artists.


You can book tickets on Belly Up's website or visit the box office. Belly Up serves a variety of food options and alcoholic and nonalcoholic beverages — the kitchen offers burgers, sandwiches, and other small-plate bar items (including vegetarian options).
Cross-country ski to dinner
Work up an appetite when you cross country ski to dinner at one of Aspen's most legendary restaurants. With miles of perfectly groomed cross country ski trails,
Ashcroft Ski Touring
is the destination for a beautiful ski to lunch or dinner. The company operates out of the Ashcroft Adventure Lodge at the end of Castle Creek Road.
Located 12 miles above Aspen in the upper reaches of the stunning Castle Creek Valley, the ski area offers superb terrain for all levels of Nordic skiers. Whether it's your first time or fifth time, you can look forward to a day of unparalleled views and fantastic snow conditions. Adventurers will choose between cross country skis or snowshoes, enabling them to select what best suits them. Individual and group lessons are available and can be reserved in advance.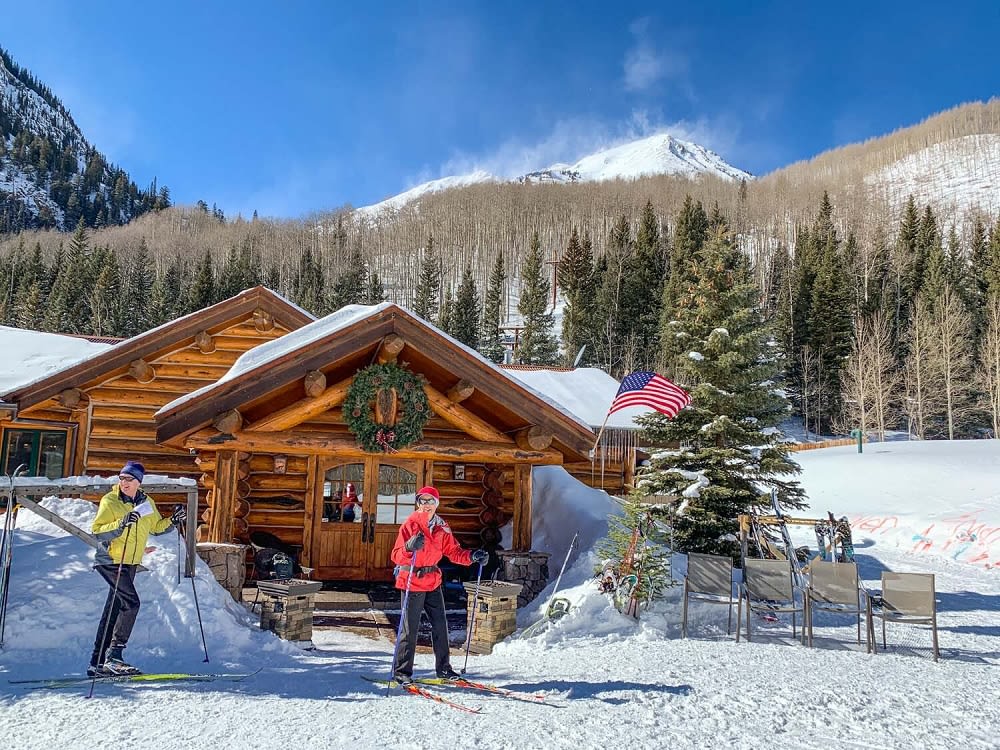 Photo courtesy of Foodwalkers
At the end of your snowy adventure, you'll be rewarded with delicious, home-cooked food at
Pine Creek Cookhouse
at the base of the Elk Mountains. One of Aspen's most famous restaurants, the menu primarily consists of wild game and fresh fish brought to life with organic, locally sourced ingredients. The menu changes seasonally and draws inspiration from great mountain culinary traditions. From field to stream, the talented chefs prepare dishes from scratch every day.
If you're ready to explore luxury homes in Aspen,
contact Carrie Wells
today. Whether you're looking for a vacation rental or a forever home, Carrie can walk you through the process from start to finish and help you find a place that's right for you. With years of experience in the Aspen real estate industry and deep knowledge of the area, Carrie and her team can help you find a house that truly feels like home.