Aspen's Best Restaurants Offering COVID-friendly Service
After a challenging year with lots of unknowns, one of the best ways to wind down is to enjoy a delicious meal at home with your family. If you're missing the comforts and elegance of the Aspen dining scene, never fear — many of Aspen's best gourmet restaurants have made it so patrons can bring their food home! Whether you're picking up takeout or having it delivered, you'll love enjoying dinners from these Aspen gourmet restaurants.
A local staple, the historic Aspen Public House has been delighting patrons for years. This modern gastropub serves self-described "Colorado-inspired comfort food," which you can enjoy from their safe and socially distanced outdoor patio. However, if you choose to order some food to take home, you have plenty of excellent options!
Start the meal with delicious truffle potatoes served with fine herbs, tasty fried cauliflower with an assortment of dipping sauces, and the local favorite Mill St. tacos, which can be filled with either roasted pork, braised lamb, or seasoned vegetables. Try a delicious curry like the spicy vindaloo, tikka masala, or West Indies curry, all with varying spice levels and served with naan.
Meat lovers will fall in love with Aspen Public House's 14-oz. ribeye steak, served with smoked marrow butter and chimichurri with crispy truffle potatoes and creamed kale on the side. There's also the iconic fried chicken sandwich with a decadent Southern fried chicken breast topped with gruyere, bacon, chimichurri aioli, pepper relish, and caramelized onions on a fresh brioche bun — the honey mustard served on the side is perfect for dipping. With other yummy selections like the lamb gyro, spiced quinoa burger, and crispy Colorado trout on the menu, you'll have a blast enjoying fantastic Aspen Public House fare from the comfort of home.
This iconic Aspen restaurant has been serving unique and innovative fare since 2016 using ingredients sourced from local Colorado farms and backyard foraging. Chef Barclay Dodge is known for creating a stunning array of flavor profiles in his dishes, and now you'll be able to enjoy them at home! Bosq's carryout menu is available between 5:45 and 8:00 PM, so you can grab an incredible dinner to go.
Treat the family to a local favorite: Bosq's Fried Chicken Bucket, which is served with housemade gochujang and an herb buttermilk dipping sauce. Adults love the Fried Chicken Aspen Happy Meal; this signature four-piece fried chicken bucket comes with a half bottle of Ruinart Champagne, making for a great night in. You'll also love decadent gourmet options like the sweet & sour crispy eggplant, or the Peking duck served with cucumber, leeks, hoisin sauce, and traditional Chinese pancakes. Takeout side options include Szechuan buttered rice, roasted broccolini, and roasted and mashed parsnips.
Looking to wind down after a hard week? Consider adding on something from Bosq's fabulous drink menu, like the Bosqow Mule, which is made in-house and served in ice-cold cans. Enjoy the Bosq canned margaritas or choose from a selection of wines from pinot noirs to chardonnays.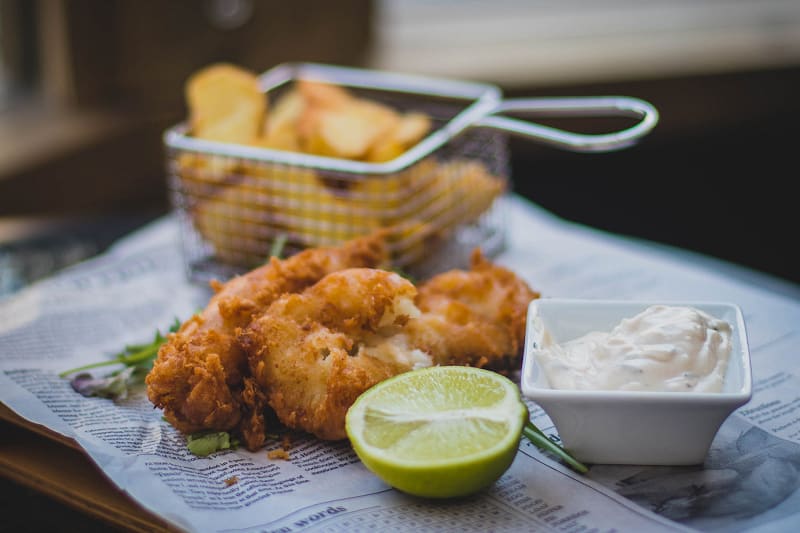 The whole family will love enjoying a takeout meal from this gourmet Italian spot. Known for their gourmet pizzas, pasta, and salads, Brunelleschi's serves up incredible lunch and dinner dishes that even the pickiest eaters will fall in love with!
During normal operations, you'll want to stop by the restaurant in person so your kids can participate in the fun Make Your Own Pizza event. But for now, you'll love curling up by the fire and enjoying classic Italian starters like calamari and shrimp scampi or the decadent portabella salad, which is topped with roasted red peppers and goat cheese and comes on a bed of mixed greens drizzled with a balsamic reduction.
For your main course, dine on a deliciously warm panini; the restaurant is known for its iconic Brunelleschi's Italian beef baguette, which is chock-full of shaved seasoned Italian beef, sweet and hot peppers, and caramelized onions. There's also the unique ahi tuna panino, which tops the delicious seared ahi tuna with avocado, Swiss cheese, field greens, and a tasty wasabi mayo.
Of course, pizza is Brunelleschi's main event. The 10" pizzas can be customized with a variety of additional toppings, including olives, mushrooms, roasted red pepper, pineapple, capers, roasted eggplant, or tomatoes of the sun-dried, sliced, and cherry variety. Add-ons include decadent choices like chorizo, pine nuts, arugula, or various cheeses, from shaved parmesan to goat cheese to ricotta.
Partnered with the iconic New York City bar, Dante prides itself on being one of Aspen's premier apres-ski destinations. The cozy restaurant is located at the foot of Ajax Mountain, featuring COVID-friendly protocols like socially distanced tables and temperature checks. Fortunately, you'll be able to easily enjoy the restaurant's delicious fare from home; through their app, Dante continues to offer their full menu for both delivery and carry-out.
Dante provides tasty breakfast treats like avocado toast, prepared with delicious grilled halloumi and soft boiled eggs, and housemade banana bread, which is served toasted with ricotta and honey. Diners also love the cheese plate filled with local artisan cheeses and crackers, the crispy calamari, and the freshly shucked oysters with mignonette and lemon.
But where the menu truly shines is its main course offerings. Enjoy a caprese flatbread with pomodoro mozzarella, basil, and chili, or the verde flatbread, which comes with spicy lamb sausage, mozzarella, and arugula. Of course, Dante is also known for its fabulous pasta. From the pappardelle al ragu featuring wild boar to the spaghetti alle vongole with manila clams, garlic, chili, white wine, and parsley, there's something here to delight every Italian food lover. Finish off your meal with the sweet tiramisu or the strawberry and balsamic panna cotta.
This festive Italian restaurant in the heart of Aspen uses the freshest local ingredients and authentic cured meats and dried goods imported from Italy. Their menu is one of the most authentically Italian in all of Aspen, and you'll love enjoying these decadent pastas and warm soups.
If you're looking for a hearty meal to feed the whole family, Campo de Fiori has added some fantastic options to their carryout menu. Select from a couple of different family dinners that can feed up to six people; the Comfort Food option comes with insalata romana, meatballs, penne alla vodka, and rigatoni montanara, while the Signature Items dinner features Campo de Fiori favorites like insalata tricolore, melanzane parmigiana, pappardelle bolognese, and salmone alla griglia.
Hungry for some smaller portions? Try the melanzane parmigiana, baked eggplant layered with savory pomodoro, fresh mozzarella, and basil pesto. You may also choose to start off your meal with the tasty burrata con pomodoro confit, a plate of fresh burrata cheese and tomato confit served with arugula and grilled rustique bread. Warm up with the minestrone genovese, a fresh and hot winter soup topped off with basil pesto.
Pasta entree options range from penne vodka to gnocchi spinaci to linguine crostacei. Patrons also love favorites like the risotto tre funghi, slow-cooked arborio rice sauteed with porcini, shiitake, and portobello mushrooms, and finished with white truffle oil. Campo de Fiori is also known for its incredible agnello arrosto con erbe, a roasted Colorado rack of lamb cooked to your specifications and rubbed with fresh herbs and served with soft polenta and vegetables.
Finish off your meal with tiramisu or Nutella semifreddo, and even add on an Italian wine or bottle of champagne to complete your fabulous dining experience.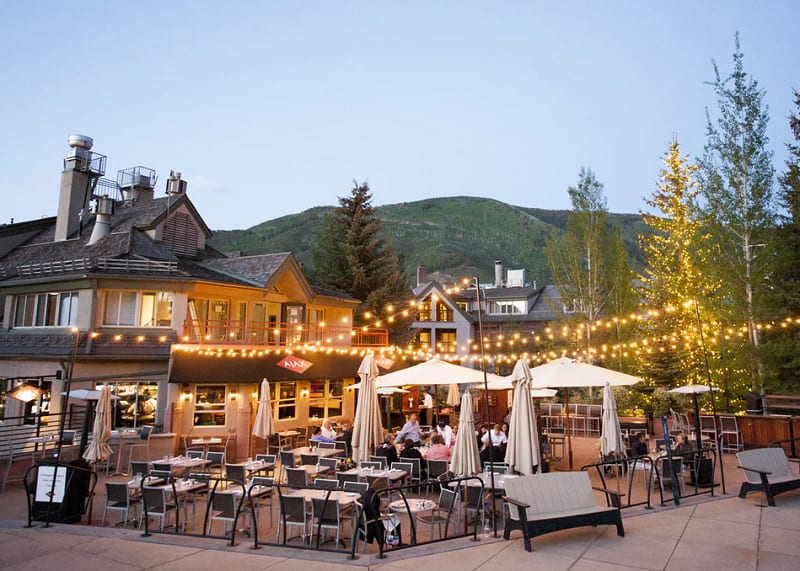 (Credit: Afar)
Perhaps one of Aspen's most innovative takeout restaurants, Nourish was developed to provide
the Little Nell
's food favorites to customers who may want to enjoy their meals outside or in the comfort of their own home. Items are available from the
Element 47
and
Ajax Tavern
menus, and some off-menu delights have been added by the Little Nell chefs. Orders can be placed by phone or on the website.
Nourish's to-go menu is available between 11:30 AM and 9:00 PM. Choose from favorite appetizers like truffle fries and mushroom mac & cheese, warm up with a steaming cup of chicken noodle soup or Element 47 tortilla soup, or dine on a tasty Ajax wagyu double cheeseburger, Loch Duart salmon, or Emma Farms bolognese. If you're just craving a quick snack, try the chicken wings, which come with Little Nell hot sauce, blue cheese crumble, and celery.
One of Nourish's most unique offerings are the
Veuve Clicquot Backpacks
, a picnic package prepared in partnership with the champagne brand that's packed with a cheese and charcuterie board, a blanket, sunglasses, and, of course, a bottle of Veuve Clicquot.
Browsing Aspen, Colorado real estate listings? If you're looking for assistance in your search for luxury homes in Aspen, Colorado, contact elite Aspen real estate agent
Carrie Wells
today! She will be happy to help you find the luxury home of your dreams.