Nestled high in the Rocky Mountains, Aspen is a picturesque community with a rich history. The town is located at the head of the Roaring Fork Valley, allowing residents to enjoy an abundance of recreational activities in the beautiful surrounding landscape. Whether you enjoy hiking, white water rafting, or horseback riding, you can find that and plenty more here. Aspen also proudly presents a robust calendar of events and festivals throughout the year. With warmer months around the corner, now is the perfect time to plan your perfect summer in Aspen.
Horseback riding

Horseback riding is a fantastic way to immerse yourself in nature and enjoy scenic views of Colorado from several different vantage points. Aspen is home to many equestrian trails to do just that. Near the town's borders, Woody Creek and Hunter Creek Trail is a 16.7 lightly trafficked point-to-point trail. The course is moderate and follows along Woody Creek while providing riders with a refreshing trek through the mountains. The path is mostly shaded with some rock sections and creek crossings. During the ride, be on the lookout for vibrant wildflowers that pop up here during the summer.
If you're drawn to something slightly more demanding, Pearl Pass might be the trail for you. This trail is a challenging trek in the White River National Park and provides riders with an unbeatable range of landscapes. Spanning over 22.7-miles, this point-to-point trail features everything from rolling hills to challenging rock ledges. This trail certainly isn't for the faint of heart, but those who embark on it will be rewarded with gorgeous Colorado scenery.
Dine outdoors
Summer is the perfect time to dine in the fresh air and enjoy the delightful Aspen weather. The town is home to many outstanding restaurants ranging from hole-in-the-wall eateries to fine-dining institutions. No matter where you decide to dine, there's a good chance you'll be rewarded with breathtaking views and refreshing mountain air. While traveling to Europe might not be an option, you can enjoy a romantic evening at
French Alpine Bistro
. This family-owned restaurant specializes in fondue and other French classics, including
escargots en brioche
and
pâtes du jour
. Don't forget to try their delectable deluxe cheese fondue topped with freshly-shaved truffle.
Those who prefer a more low-key culinary experience can head over to
White House Tavern
— a popular neighborhood spot famous for its delicious sandwiches. The restaurant is housed in what once served as a 19th-century miner's cottage, allowing you to glimpse the town's history while enjoying your meal. If the weather permits, consider dining outdoors on the patio.
Spend the day hiking
Break out your hiking boots to traverse one of the many trails around Aspen. The Roaring Fork Valley offers a wide assortment of options featuring all difficulty levels, and beginners will also be comfortable on the
Rio Grande Trail
, which follows a paved path most of the way along the river.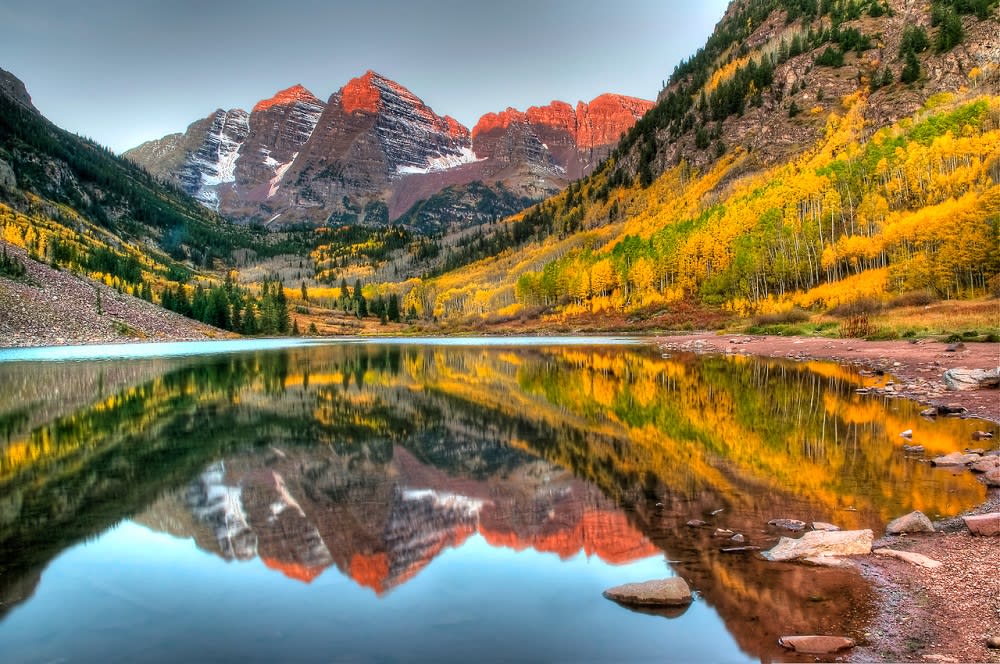 Photo courtesy of USDA Forest Service
The Maroon Bells, featuring a mirror-like lake that reflects the images of two snow-capped peaks, is undoubtedly one of the most iconic hikes in Aspen. Located just ten miles from the town, these are among the most stunning peaks in the Rocky Mountains. Offering a day of adventure, this is an excellent place for the avid hiker.
Visitors choose between a few trails depending on how much time they have. The Maroon Lake Scenic Trail is an easy one-mile loop that takes approximately an hour to complete. The course is especially popular among beginners, so you'll likely encounter other people while exploring. If you have more time and are looking for a slightly longer hike, check out Crater Lake Trail. This hike spans over 3.6 miles and is rated as moderate, and boasts sweeping views along the way.
Explore downtown
No visit to Aspen is complete without taking a stroll downtown. This is a vibrant district with historic buildings alluding to the town's colorful past. Restaurants, art galleries, bakeries, independently owned boutiques, and hotels flank the brick sidewalks. Start your day with a caffeine fix from
Felix Roasting Company
, located inside the historic Hotel Jerome. This Aspen favorite specializes in hot and cold beverages, delicate pastries, and an extensive menu of specialty drinks. Each drink is infused with house-made non-dairy milk, proprietary syrups and tonics, and custom-made spice blends.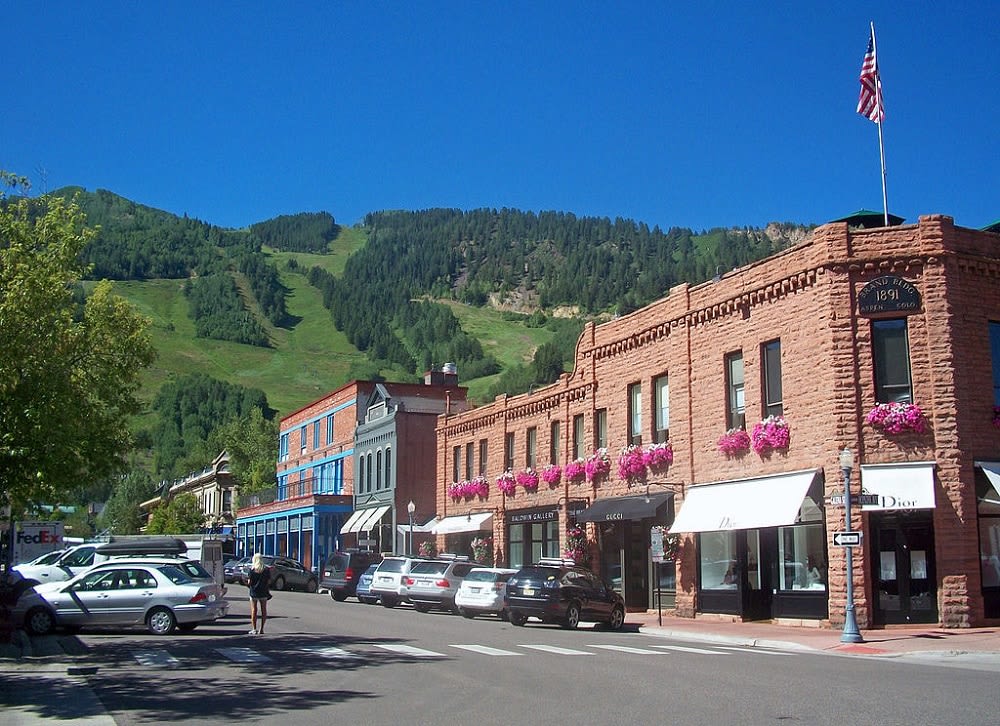 Once your coffee is in hand, take a stroll downtown and enjoy window shopping at the art galleries. Aspen has become known for its impressive art scene with its range of museums and gallery spaces.
Red Brick Aspen
exhibits a range of mediums by Colorado artists, emphasizing those from the Roaring Fork Valley. Besides showcasing such talent, the gallery offers artist lectures, receptions, and serves as a hub for creative engagement and artistic growth within the community.
Get in some retail therapy
If shopping is your guilty pleasure, you'll love all that's waiting for you in Downtown Aspen. Despite its compact size, this district is home to more than two hundred shops spanning from consignment stores and local boutiques to high-end designer storefronts. Aspen might not offer sprawling shopping centers, but the shopping experience here is much more charming and infused with a distinctive local flavor you can't get elsewhere. Shops such as
Daniel's Antiques
and
Ute Mountaineer
exemplify this by embracing Aspen's unique ambiance and lifestyle and are not to be missed.
Revamp your wardrobe by taking a trip to
Pitkin County Dry Goods
, a part of the community since first opening its doors in 1969. This store carries several boutique designers and purveys fashion items featuring the perfect blend of sophistication and casualness.
Book enthusiasts will adore
Explore Booksellers
located in the heart of Main Street. Housed in a former Victorian home, this bookstore features every genre imaginable, including history, art, travel, fiction, children's literature, and plenty more. The shop also sells cards, journals, and various curiosities, making it a great spot to grab a gift for a friend or pick up a souvenir.
Enjoy a ride up Aspen Mountain
Soak in scenic views when you take a gondola ride — a delightful activity for a warm summer evening. Downtown Aspen is where you'll be able to catch the
Silver Queen Gondola
to ride up to the top of Ajax Peak. Once you reach the mountain, you can partake in a range of activities.
Attractive options include the world's highest official disc golf course, kids' activities, and yoga on select days from June through August. Summer weekends also bring live music with classical on Saturdays and bluegrass on Sundays. You can also grab a bite to eat at the
Sundeck
— a casual eatery specializing in American, Asian, and Mediterranean cuisine. Featuring an outdoor patio, this spot is the perfect place to enjoy lunch and, in their own words, a "breathtaking top-of-the-world wow-factor."
Community festivals and events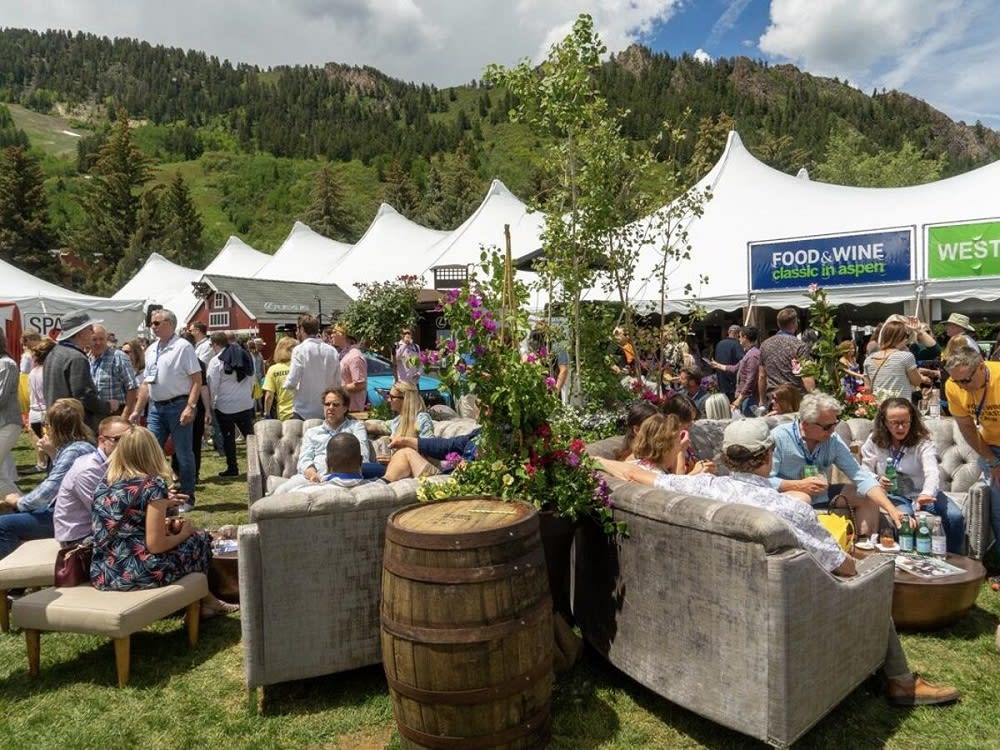 Photo courtesy of Aspen Daily News
No matter the season, there's a good chance something exciting will happen in Aspen. The town boasts a wide array of community events and festivals, giving newcomers multiple opportunities to join their community. Get a taste of Aspen at the
Food and Wine Classi
c — a widely-attended festival in September. This weekend-long event invites you to join celebrity chefs and renowned winemakers for an unforgettable culinary experience. Activities include cooking demonstrations, wine seminars, and exclusive tastings.
Immerse yourself in the area's artistic scene by attending the
Aspen Arts Festival
— one of the town's most popular summertime events. The festival originated nearly twenty years ago and takes place in downtown Aspen. Browse through the booths showcasing the talent in various mediums such as painting, jewelry, sculptures, ceramic art, and more.
Jazz enthusiasts can also look forward to
Jazz Aspen Snowmass
which has become a highlight of the warmer months. Founded in 1991, Jazz Aspen Snowmass consists of concerts in June and the music festival over Labor Day weekend. The event unites jazz lovers and concert-goers alike for a memorable time of live music and world-class musical talent.
If you are interested in exploring Aspen houses for sale, please don't hesitate to
reach out to Carrie Wells
today for expert guidance. Whether you're looking for a vacation rental or a permanent residence, Carrie can walk you through the process from start to finish to find a place that's perfect for you. With years of experience in the real estate industry and deep knowledge of Aspen, Colorado, real estate, Carrie and her team will help you find a house that truly feels like home.
*Header photo courtesy of Post Independent