Aspen, Colorado is known for its breathtaking views, pristine slopes, and extravagant estates. There's nowhere on earth better for an outdoor escape than the Rocky Mountains, and Aspen has everything you need. Tucked within the ski town are several high-end restaurants that offer a break from the slopes, but not from their natural beauty. These are the must-visit Aspen restaurants with stunning views:


Ajax Tavern

(Photo source: Ajax Tavern)
Located at the base of Aspen Mountain, Ajax Tavern is the best seat in town for looking out over the slopes while sipping on a local brew. The tavern has something for everybody. Indulge in Wagyu steak frites (with truffle fries no less), or head to the seafood bar for a half-dozen oysters. Finish the night with a cinnamon crème brûlée and a view of the sun setting over the mountain peaks.
Pine Creek Cookhouse
You can find the Pine Creek Cookhouse sitting among towering trees and snow-capped mountains. The restaurant serves gourmet Alpine cuisine, and takes inspiration from the rugged land it sits on. Food options focus on sustainability, and menus vary by season. In the summer, start with Ashcroft baked cheese, then try the pan-roasted elk chop as your main dish. If you visit during winter months, get cozy with a three-course "Dinner Tour" meal, then end the night with a warm apple crisp.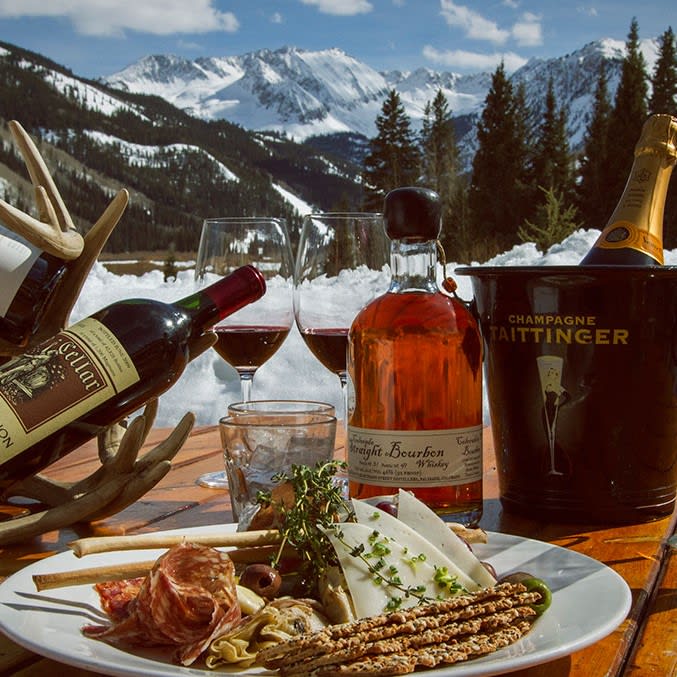 Aspen Art Museum Cafe
If you pay a visit to the Aspen Art Museum, be sure to stop by the cafe — you'll want to stay a while. This unassuming museum cafe offers views of Aspen Mountain and Independence Pass, plus a weekly rotating menu full of creative options made with local ingredients. Dining options can include favorites like caprese, quesadillas, or panini, plus potent potables like Colorado craft beer.