Wander through wildflowers, mimic flies to catch fish, move through roaring rapids, or gaze at your reflection along the refreshing Aspen waters. You'll find the remnants of winter and spring have rendered a space perfect for overnight trips under the stars or floating down the river with your favorite people. You don't have to be an expert at outdoor adventures when Colorado has so many experienced guides.
1. Book a fly fishing trip – Taylor Creek Fly Shop
Spend a full or half-day out on the water with a talented river guide from Taylor Creek Fly Shop. This shop is only 30 minutes away from Aspen and organizes wade trips, where an angler moves in and out of the other water to fish. These wade trips are the best for beginners because a guide stands next to you as you fish. They also offer float trips where you'll float on an aluminum drift boat and fish while the guide maneuvers the vessel through the waters. Due to COVID-19, they are not currently renting out boots, waters, rods, and other fishing equipment. Remember to purchase your fishing license from Colorado Parks and Wildlife before your fishing adventure. Take a gander at the rates and trip options, and call (970) 927-4374 to make a reservation.
2. Paddleboard up Independence Pass – Stillwater or Twin Lakes
◼️ Still Water
Bring your sunscreen, dry bag lunch, and paddleboard to Still Water. This is a slow-flowing portion of the larger Roaring Fork River and surrounded by the North Star Nature Preserve. Keep your eyes out for herons, moose, beavers, and other wildlife, as you float down. You can stop halfway on the beach to enjoy the meal you pack or enjoy a break from floating. Even though it's summertime, the water will be quite cold. Remember, parking is limited at the Nature Preserve, so consider having a friend drop you and your board off at the Wildwood School location. Find more information about planning your trip here.
◼️ Twin Lakes
Twin Lakes is surrounded by Mount Elbert, La Plata, Rinkler Peak, and the Collegiate Peaks views and is another wonderful paddleboard destination. Twin Lakes are two glacial lakes on the east side of Independence Pass and offer breathtaking views on your stand-up paddleboard. Sometimes the afternoon mountains winds can be unruly, so plan for a morning or evening paddling. Since the waters are not highly trafficked by large watercraft, you'll enjoy a calm paddling experience.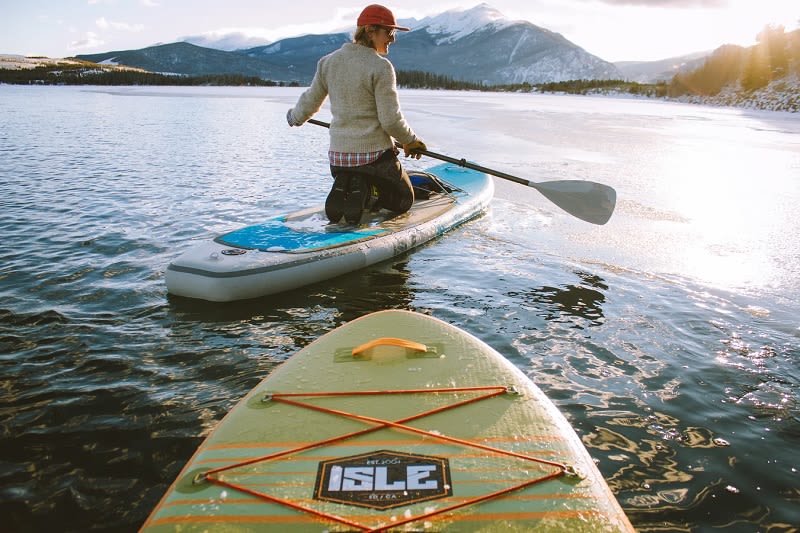 The Ruedi Reservoir is on the Frying Pan River — around 15 miles east of Basalt — and offers relief from the summer heat. The reservoir was a part of the Fryingpan-Arkansas project that included constructing dams and tunnels in the 1960s. Today Ruedi Reservoir is a destination for boaters, wakeboarders, and campers alike.
◼️ Boating
What better way to maximize your experience on the reservoir than boating. Use the Ruedi Marina Boat Ramp, and ensure your boat is free of invasive species before entering the water. See information here.

Aspen Yacht Club is a private club founded in 1968 to promote sailing on the Ruedi Reservoir. The club also puts on community events.
◼️ Wakeboarding
After you've loaded your boat into the reservoir, start towing your favorite wakeboarder and enjoy the clear waters. Winds on the Ruedi Reservoir build from 11 am to 4 pm, which might be a prime time for experienced wake surfers. Beginning wakeboarders might be more comfortable with the waves that the boat generates traveling along the reservoir.
◼️ Camping
Soak up more of the Ruedi Reservoir's beauty by camping at one of the plentiful camping locations. Make a reservation at any of the lovely sites three days, or up to six months in advance, and you can book your spot from May to September. Remember, there is no cell service near the campgrounds.

Dearhamer Campground has 13 sites for tents, trailers, and RVs, in addition to bathrooms and drinking water. Find more information about booking here.

Little Maud Campground contains 19 sites for tents, trailers, and RVs, along with picnic tables, campfire rings, and food storage containers to keep your meals safe from bears.

Mollie B Campground is equipped with over 20 campsites and has drinking water, flushing toilets, and trash collection. Make a reservation here.

Little Mattie Campground provides 19 sites for tents, trailers, and RVs. This site also has bathrooms and drinking water.

Ruedi Marina Campground has eight spaces for trailers and RVs, and you are closer to the boat ramp at this location. You'll also have toilets, drinking water, and picnic tables.

In addition to the camping areas, you will also find other lovely picnic spaces, including Freeman Mesa, Black Bess, and Rocky Fork Picnic Site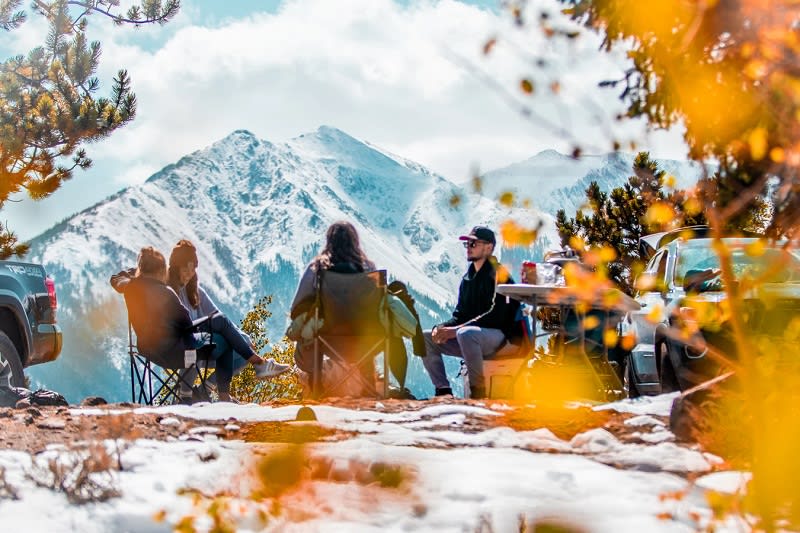 4. Whitewater Rafting – book a trip with Blazing Adventures
What better way to boost your adrenaline and spend time with friends than rafting the Colorado rapids. Blazing Adventures provides rafting trips along the Roaring Fork River, Colorado River, and Arkansas River. Regardless of whether you are a beginner, intermediate, or advanced water enthusiast, Blazing Adventures has different excursions: The Shoshone and Lowerfork Roaring Fork are family-friendly alternatives, while the Slaughterhouse is a more advanced experience with class four rapids. Advanced rafters can rent an inflatable kayak or "duckie" and go solo. Book an AM or PM session with Blazing Adventures, and you will not be disappointed. They also arrange custom trips that can include rafting, a sunset dinner, and transportation.
5. Hike to a High Alpine Lake – American Lake, Crater Lake at the Maroon Bells
The Maroon Bells are one of the most photographed places in Colorado, and what better way to take in natural beauty than taking a walk to an alpine lake. The Bells reach over 14,000 feet high and are located 10 miles east of Aspen off highway 82.
◼️ American Lake Trail
American Lake Trail is 3.2 miles in one direction and begins at the American Lake parking lot. You are welcome to make a day of it or camp. Bring your leashed dog and a group of ten on this intermediate hiking experience. Travel amongst the wildflowers from mid-July through mid-August on this beautiful trail. The area is pack in and pack out, so please remember to leave no trace. If parking is limited at the Maroon Bells, Park at the Aspen Highlands Village Parking, and utilize the RFTA shuttle.
◼️ Crater Lake
Crater Lake is a 3.5 miles round trip hike, and the average hiking time is 1 hour and 30 minutes. Park in the Maroon Lake parking area, venture onto the Maroon Snowmass Trail and take in the majesty of the Maroon lake. As you reach the 2-mile mark, you'll see Crater Lake awaits. Dogs on leash are also welcome to join the fun. This is a popular trail, so remember to create a parking plan.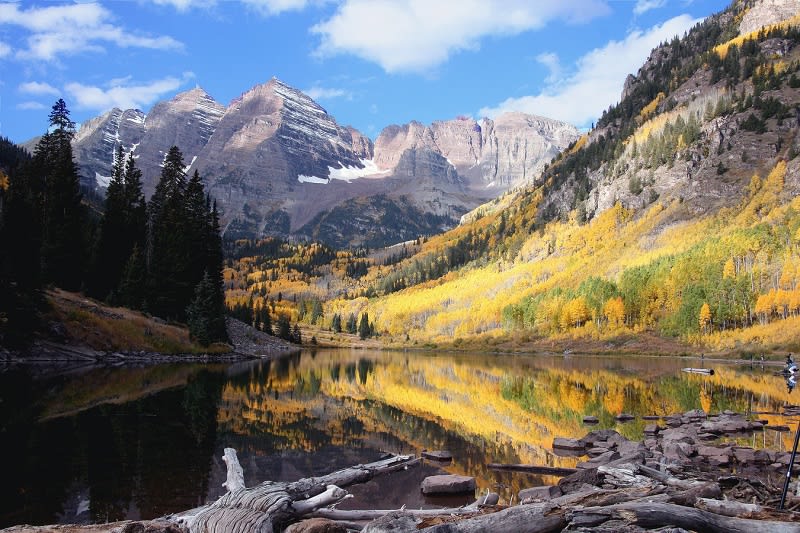 Aspen Living
If you're interested in learning more about living amidst Aspen's gorgeous natural resources, contact Carrie Wells. She'll be happy to help you find Aspen homes for sale that suit your lifestyle.